A Pharoah in the Hall and witches in the dungeon
---
History is well and truly alive at Willow Lane School this term. Last week, Orange Class as part of their History theme of castles went to Lancaster Castle and were locked up in a dark dark dungeon although sadly let out after a couple of minutes.
Michael shocked the tour guide with his knowledge of Motte and Bailey castles and the biggest attraction for the pupils was trying on the clanking rusty handcuffs. We saw special windows to shoot people out of and some children were convinced they felt a ghost!
It was sad listening to the tour guide's tragic tales of people locked up within the thick walls of the castle many hundreds of years ago and we all felt relieved to step outside into the fresh air again!
Now its not just any day when pupils are mummified in the school hall but this is Willow Lane School and anything can (and does) happen on a rainy October morning. A Pharaoh marched in to begin a morning of strange Egyptian antics.
  'We learnt Egyptian hieroglyphs and how to make a pyramid shape by laying on the floor and we made some mummies out of people'- Tyler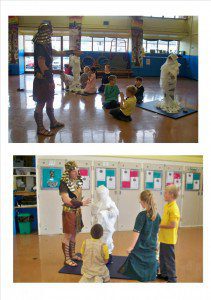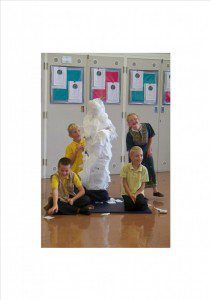 'A very bossy Pharaoh came and we had to pray to him and do a quiz to test our knowledge' – Matilda
'I give this morning 10 out of ten!'– Luis
'No, the biggest number out of the biggest number!'- Tyler