Bring me sunshine…
---
Orange class have just enjoyed a windy trip to Morecambe looking at  features of the landscape and enjoying a special surprise.
Here with all the news is Daniel and Charlie-Paige…
'The train went really fast and backwards. It made a noise like crying when the brakes moved. We looked for physical and human features of the landscape and made lists of man made and natural things.'-D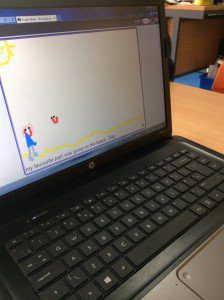 'We went to the beach, it was brilliant because I made a sand angel and got sand in my hair and Darcie and I buried a shoe that we found.  We found a wing and had to wipe our hands with a special wipe. '-C.P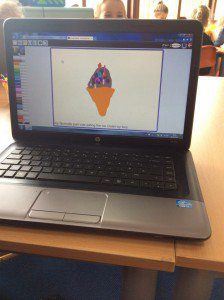 'Next it was lunchtime and we had it under the parachute because it was freezing and windy. it was super warm under the parachute and like a tent. I had the healthiest lunch ever!'-D
'I liked it under the parachute because it meant a bird couldn't snatch my lunch away! Then a special surprise, ice cream from Harts cafe and ice cream parlour! It was lovely.'-C.P
'We had a long look at the sea and  we all wanted to go swimming. Finally we went to the library and Taliah got a book called Stupid Baby. It was the funniest book ever.'- D
' We loved our trip to Morecambe and the best part was when when we got our ice creams! That was the best thing ever.'-C.P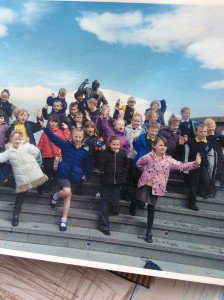 Quote of the day was from Jay- 'I have seen a shark like fin in the water!'
Back in a nice warm classroom, Orange class discussed their Geographical findings and whether you would find the items they had listed on any beach in the U.K. Then time to capture their special day using paint tools on the computer.
Tags:
Orange Class