Ghastly frights, Film Nights and Willow Laners Speak Out!
---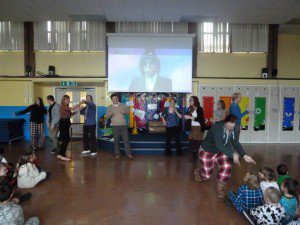 The Halloween Disco might have been and gone but the sight of many small ghouls making serious moves on the dance-floor is not something to be forgotten easily. ..
Violet Class won the prize for best pumpkin carving and Oscar for being the scariest of a very scary bunch along with Michael for being such a terrifying Mummy.
The dressing up theme continued on Friday when Willow Lane pupils (and staff!) dressed up in their pyjamas and onesies to raise money for Children In Need. Holly and Faith's spotty and animal print onesies stole the show and Zach won a Pudsey Bear for rocking his onesie with style.
There are more monster related shenanigans coming up next Wednesday (27th November) when Monsters University will be screened at half past four in the hall. Snacks will be available and it is a free event so you can hold on to your pennies for the delights of the Christmas Fair on the 11th December.
And now onto something completely different…
Ideas have been coming in thick and fast on the whiteboard in the library as what to include on this blog. Thank you and keep them coming!
Pupils are keen to discuss how they want the library and reading room to look and to let the world know all about the new Kindles and i-Pads that have been purchased.
According to James,   'cushions would be good and a sign saying 'entrance' as you walk in the library over the door.  How about posters of famous story-tellers and people from books like Harry Potter, Charlie and the Chocolate Factory and the BFG?   Kindles will be really good when you can't find a book you want to read in the library.'
Faith has written down that she wants to talk about the new games at playtime so here she is to tell us more…
' I would like to have new games at lunch time so I do not need to just sit down and talk. The hop scotch lines are faded and I would like more skipping ropes.  I like the new house that is in the little yard though!'
Georgina is excited about the fact there may soon be some organic burgers to eat for a special meal with the press and the local radio being invited to come in to help spread the word that Willow Lane may soon be one of the first school to have organic meat!
'I am part of a group that goes out and looks at things in the allotment and see what we can do with them in the kitchen. Today we are trying out kale, leeks and cooking them so you don't know that they're there! I like to have a sweet potato instead of a normal potato for my lunch as there's more flavour.'
Some of you think the names of team captains, Eco Council members and those who have had a special mention in Assembly should be mentioned as well so stay tuned next week for those and please please send a message to the blog to tell us about more things you want to see included, what you are currently really enjoying at Willow Lane, things that you think could be improved and events you are looking forward to.
It's going to be a busy busy few weeks –remember we need your help to bring in chocolate, bottles for the grown up Alcohol tombola and items for the Secrets Room. With the money raised, we can buy even more fantastic resources for Willow Lane School and make it even better! What would YOU like to see?