Got a spare bedsheet to hand? It's that time of year again…
---
No, not to change the bedding but to make into an utterly brilliant costume for Willow Lane's History afternoon, next Wednesday. Any pupils, reading this, we hope you are sensible enough to know not to grab the scissors and chop up mum's best sheet so ask first before grabbing anything…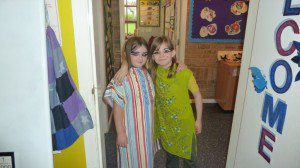 Caitlin is already furiously planning her Viking costume and it was very hard to get her to stop talking as she kept coming up with idea after idea so those without inspiration, should go seek her out.
She says that she  might  'get one of my long dresses and maybe put some leggings on and put some shoes on that look like Viking shoes'. Good luck with that Caitlin and we look forward to seeing your outfit next week.
Ethan who is also coming as a Viking stated somewhat mysteriously that, 'I might bring a shield, a sword, a helmet and a cloth,' and Chloe is going to put on of her 'jazzy dresses with dark red on as Vikings liked dark red.'
Meanwhile in Blue Class, James has a tip for any wannabe Pharaohs. 'You could put a t-shirt on your head and create a mask' and  Joe is simply planning to 'wear a dress'. Thomas recommends when making a Mummy costume, 'not to cover your face with toilet-roll'. Thanks for the tip, Thomas!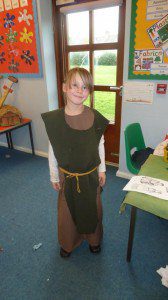 In Violet Class, Courtney is planning to 'wear one of my white dresses and add detail,' to make an Authentic Tudor outfit and Indigo's World War Two theme is causing a veritable flurry of refugees plotting gas masks made from boxes.
In Yellow Class, the theme of castles means little princesses and knights in creaking cardboard and there will be doctors, nurses and astronauts crash-landing in Orange Class.
Still stuck for an idea? There is no need to panic (or Ebay!)- look below for some helpful links to top hints.
There will be a historical cafe (hopefully minus rats and Spam but you never know…) and the children's work will be out on display for you to admire.
See you next week as we take a step into the past.
http://www.familiesonline.co.uk/LOCATIONS/Gloucestershire/Articles/School-Trips-Historical-Costumes-Help
http://www.show.me.uk/site/news/STO1457.html
http://www.letsgowild.co.uk/activity/activity-home/1/make-a-viking-costume.html