Put down the computer, it's Book Week O' Clock!
---
It's book week at Willow Lane! Pupils and parents have been flocking to our book stall to purchase a book and remember for every  purchase, the school gets a free book too! We have been taking turns going to the library and exploring the wonderful world of books. Our theme is Traditional Tales and we have been writing our own as well as listening to both oral and written traditional tales from around the globe.
A storyteller called Thomas McCarthy came to spend some time in Key Stage Two. Over the week you will be able to read some more reviews of him and the Viking workshop that also invaded Willow Lane but first of all here is Joe's review of Thomas McCarthy.
'First of all there was an assembly and the guest was Thomas McCarthy. He was funny and sang this song called 'Old Woman I think you're Mad', and he told us this story about Selkies who touched land and turned into people. He had a good accent!
His singing was great too and he had this story about men with one really big nose and one with a really really big nose and humped backs.
They were lonely and one of them fell in a ditch and at three am one of them heard some music and someone singing 'Monday, Tuesday! Wednesday,' and they got a wish because it took five thousand years to make this song but the other man said not to take the wish because it's bad luck. He wanted to be beautiful so the fairies threw him up in the air and his big nose and hump fell off but when they threw the bad one up in the air, he got two humpbacks and a bigger nose!
Back ages ago, people especially gypsies and travellers could not read or write so they had to tell stories instead. Thomas had a granddad who would tell stories from seven in the morning till one in the morning but would still say come back at seven am when he had finished! I loved listening to the stories and listening to Thomas sing and talk about travellers. I told my dad about it when I got home. '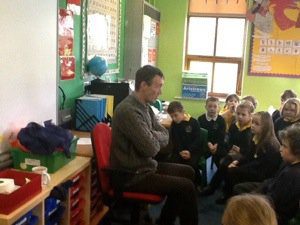 Tags:
Book Week