Safer Internet Day
---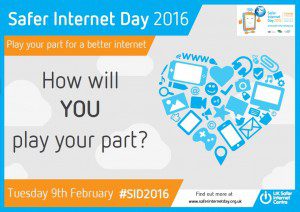 Today is Safer Internet Day and it's important for us all to think about how great the internet is but also about how it needs to be interacted with correctly and safely. At school we tell children to be SMART:
SAFE – Keep your personal information safe.
MEET – Friends made online are strangers; meeting them can be dangerous.
ACCEPTING – Accepting files can be dangerous. If unsure, ask an adult.
RELIABLE – Not everyone or everything online is reliable or trustworthy.
TELL – Always tell an adult if something online upsets or worries you.
The best way to keep children safe online is to have open and honest discussions with them. Talk about what sites to go on and what not go on. Look in to parental controls and age limits (Did you know children are meant to be 13 to have a Facebook?) and talk to your children about why you have safe internet rules in your house.