Walk and Cycle to School
---
At our school we recognise that walking and cycling to school are good options because they are…
good for our physical health.
good for our mental health.
good for our environment.
take pressure off public transport.
give time for conversations.
link us to our local environment.
In September, we hope that most of our children will walk or cycle to school for these reasons. If you cycle or scooter to school then you can leave your wheels in the bike shed over the school day. Some families who live further away will continue to need to drive or use public transport and if travelling on public transport please make sure you are aware of the latest guidelines. If you need to drive to school, please remember not to come in to the staff car park. This is to ensure that children and families coming in to school are not put at risk by drivers swinging in to this area.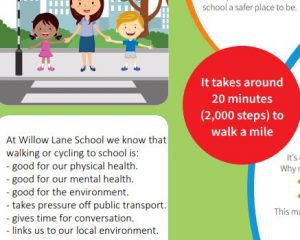 Click on the link below to see how long it will take you to walk to school.